07/17/2020 By Christine Cavalier
That is the question on all the parents' minds in the Township. Things are up in the air. Contingency plans are being made. Arguments had online, locally and nationally. School in the time of COVID is no simple matter, and since we have no national leadership or guidance, states and districts are on their own […]
07/16/2019 By Christine Cavalier
You can copy and paste this post (in between the lines), print it out and put it in their mailboxes. Also please share it via text and email messages and posts in social media. We got this call today, July 16, 2019. The scam is currently active in PA. __________________________ Pennsylvania is the 2nd most […]
05/23/2019 By Christine Cavalier
Super popular interior design and all-things-Millennial-living website Apartment Therapy has made a list of 24 of the Coolest Suburbs in the US, and a Delco town made the cut! Spoilers: Haverford Township isn't it. I'll bet you can guess which Delco town was, though. Think hipster. (ok that's a little unfair but we're feeling jealous) […]
We have 5 volunteer fire fighting companies in Haverford Township. You can keep up with their activities via social media and the Delco dispatcher service. Here are the Facebook pages of each firehouse. Some pages are updated more frequently than others. Some share on-scene photos and describe their work. It's amazing what our neighbors do […]
Being Human in H-Town
Knock Knock Who's there? Clipboard guy. Clipboard guy who? Clipboard guy who shouldn't be here but I'm going to try to sell you something anyway. Now that the weather is better, some windows, doors, siding, roofing etc. companies will come knocking. Here's what you need to know to keep them from disturbing your peace. TOWNSHIP […]
Recent Happenings
The scene tonight at Veterans, when we were on another Pokémon Walk
H-Town resident Esther Cohen-Eskin woke up early in the morning of August 19, 2016, to see a swastika spray-painted on her garbage can. Esther and her family are Jewish. She took to Facebook to share her dismay: "I walked outside this morning to take out the trash, and on my can someone spray painted a […]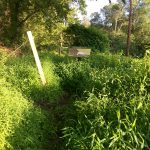 We don't really have an Adventure Tourism guide for Haverford Township. We have found some remote, quirky places tucked away in off-the-beaten track trails and roads, though. Do you recognize this? No? It's part of the CREC trails. The plaque commemorates an old railroad that went through that spot. It's a bit grown over at […]
The Donovan brothers won a silver medal in rowing at Rio's 2016 Summer Olympics. Lots of things to say about that, in a *very* thick accent. It may take you non-Irishy Townies twice through to understand these lads, but it's worth it. Hilarious interview! Nothing like the Irish humor, is there? Go over to the […]
We've been noticing township cars cruising the the Pennsy and Merry Place trails. The Merry Place trail is way too narrow for both a township truck (like Animal Control) and say, a stroller. Definitely not a double stroller! Hopefully when they come by you'll be walking near a space to get out of the way. […]
New Here?
Knock Knock Who's there? Clipboard guy. Clipboard guy who? Clipboard guy who shouldn't be here but I'm going to try to sell you something anyway. Now that the weather is better, some windows, doors, siding, roofing etc. companies will come knocking. Here's what you need to know to keep them from disturbing your peace. TOWNSHIP […]
Here's a pic from Hidden City Philadelphia's Instagram account: This pic made us wonder about the good old Granite Run Mall, demolished last year. It turns out that "Abandoned Malls" is a thing. We'd heard about "urban exploring" or "decay" seekers wandering around the old Swell Bubblegum Factory in the space now occupied by the […]
We went for a little walk today along Pennsy Trail to see the snow before it melts. Shout out to the other dogs we met along the way, including new resident puppy Frank and his sweet mom and dad who know the former Miss Sandowich-now-Coffey (coffee n a sammich, anyone? Can't make this stuff up) […]
What.The.He–??
Seems like lots of parents from other parts of the Commonwealth and beyond are posting back-to-school pics. Not Townies! The Haverford School District begins after Labor Day. According to this 2013 article, our district is one of 57 out of about 500 in PA that begins after the holiday. We all seem to be OK […]
There's a ridiculous letter from Phil Heron making the rounds. Mr. Heron is the Editor of the Daily Times. He is echoing the woes of locals who protest development over open space. He talks about the wide open views in Kansas. What the hell? In Kansas all that open space is PRIVATELY OWNED and used to […]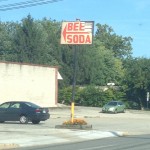 Saw this on Haverford today, in front of Ardmore Beverage: Would this be soda for bees? Or soda made out of bees? Or, more of philosophical command, a la Caddyshack: Let it happen. Beeee the Sodaaa.
That is the question on all the parents' minds in the Township. Things are up in the air. Contingency plans are being made. Arguments had online, locally and nationally. School in the time of COVID is no simple matter, and since we have no national leadership or guidance, states and districts are on their own […]
You can copy and paste this post (in between the lines), print it out and put it in their mailboxes. Also please share it via text and email messages and posts in social media. We got this call today, July 16, 2019. The scam is currently active in PA. __________________________ Pennsylvania is the 2nd most […]
Knock Knock Who's there? Clipboard guy. Clipboard guy who? Clipboard guy who shouldn't be here but I'm going to try to sell you something anyway. Now that the weather is better, some windows, doors, siding, roofing etc. companies will come knocking. Here's what you need to know to keep them from disturbing your peace. TOWNSHIP […]
Super popular interior design and all-things-Millennial-living website Apartment Therapy has made a list of 24 of the Coolest Suburbs in the US, and a Delco town made the cut! Spoilers: Haverford Township isn't it. I'll bet you can guess which Delco town was, though. Think hipster. (ok that's a little unfair but we're feeling jealous) […]
Walking along Pennsy trail last night, we caught a sure sign of spring: chalk drawings! We hadn't seen the typical native markings on Pennsy trail before. There seem to have been some ancient rituals performed involving grids of Xs and Os, as well as some cave drawings, "name tagging" and what we assume is a […]
Perhaps the Royal Caribbean ship "Anthem of the Seas" should be called "Anathema the Seas"**. The ship is turning around for the 2nd time in almost as many weeks. Do you remember the Super Bowl Sunday storm that tossed the 6,000 capacity cruise ship up, down, and all around off the coast of North Carolina? […]
Seems like lots of parents from other parts of the Commonwealth and beyond are posting back-to-school pics. Not Townies! The Haverford School District begins after Labor Day. According to this 2013 article, our district is one of 57 out of about 500 in PA that begins after the holiday. We all seem to be OK […]
See all posts in all categories