08/21/2016 By Christine Cavalier 1 Comment
H-Town resident Esther Cohen-Eskin woke up early in the morning of August 19, 2016, to see a swastika spray-painted on her garbage can. Esther and her family are Jewish. She took to Facebook to share her dismay: "I walked outside this morning to take out the trash, and on my can someone spray painted a […]
The Donovan brothers won a silver medal in rowing at Rio's 2016 Summer Olympics. Lots of things to say about that, in a *very* thick accent. It may take you non-Irishy Townies twice through to understand these lads, but it's worth it. Hilarious interview! Nothing like the Irish humor, is there? Go over to the […]
Being Human in H-Town
Here are some photos collected from Townies and news sources. We're adding as we go. Click on the photo to flip through the gallery: []
Recent Happenings
We don't really have an Adventure Tourism guide for Haverford Township. We have found some remote, quirky places tucked away in off-the-beaten track trails and roads, though. Do you recognize this? No? It's part of the CREC trails. The plaque commemorates an old railroad that went through that spot. It's a bit grown over at […]
The Donovan brothers won a silver medal in rowing at Rio's 2016 Summer Olympics. Lots of things to say about that, in a *very* thick accent. It may take you non-Irishy Townies twice through to understand these lads, but it's worth it. Hilarious interview! Nothing like the Irish humor, is there? Go over to the […]
We've been noticing township cars cruising the the Pennsy and Merry Place trails. The Merry Place trail is way too narrow for both a township truck (like Animal Control) and say, a stroller. Definitely not a double stroller! Hopefully when they come by you'll be walking near a space to get out of the way. […]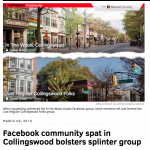 Phillyvoice has an article about yet another Facebook community group splintering due to drama trauma. Why did journalist Kevin C. Shelly report this non-event as "news" when it isn't really new? Because in our modern era, online groups are something worth talking about. We want our own community groups to help to our community instead of hinder […]
Perhaps the Royal Caribbean ship "Anthem of the Seas" should be called "Anathema the Seas"**. The ship is turning around for the 2nd time in almost as many weeks. Do you remember the Super Bowl Sunday storm that tossed the 6,000 capacity cruise ship up, down, and all around off the coast of North Carolina? […]
New Here?
We went for a little walk today along Pennsy Trail to see the snow before it melts. Shout out to the other dogs we met along the way, including new resident puppy Frank and his sweet mom and dad who know the former Miss Sandowich-now-Coffey (coffee n a sammich, anyone? Can't make this stuff up) […]
Dogs and cats are living together, out on the mean streets of H-Town. Well, maybe they aren't living "together" exactly. They insist they're just roommates. Still – what's the procedure if your pet makes a break for his gang banging buds? And what do you do if you find a domesticated animal? Search your surrounding […]
We're just famous. That's all there is to it. Or else, the Philly.com is obsessed with us like the New York Times is obsessed with Philadelphia. This time, Bucks County folks are planting the seeds of thought for a bamboo ordinance. The article mentions we Townies are pioneers, as we already have one in place. (BTW […]
What.The.He–??
There's a ridiculous letter from Phil Heron making the rounds. Mr. Heron is the Editor of the Daily Times. He is echoing the woes of locals who protest development over open space. He talks about the wide open views in Kansas. What the hell? In Kansas all that open space is PRIVATELY OWNED and used to […]
Saw this on Haverford today, in front of Ardmore Beverage: Would this be soda for bees? Or soda made out of bees? Or, more of philosophical command, a la Caddyshack: Let it happen. Beeee the Sodaaa.
It may seem like mischief night has come early to H-Town, but what's really happening is some good ol' fashioned school spirit, in the form of bathroom tissue. Any trees on your street look like this lately? Haverford High School's Fords (Yes, they are named after the original car. Go figure) are a fun […]
We've been noticing township cars cruising the the Pennsy and Merry Place trails. The Merry Place trail is way too narrow for both a township truck (like Animal Control) and say, a stroller. Definitely not a double stroller! Hopefully when they come by you'll be walking near a space to get out of the way. […]
Dogs and cats are living together, out on the mean streets of H-Town. Well, maybe they aren't living "together" exactly. They insist they're just roommates. Still – what's the procedure if your pet makes a break for his gang banging buds? And what do you do if you find a domesticated animal? Search your surrounding […]
We went for a little walk today along Pennsy Trail to see the snow before it melts. Shout out to the other dogs we met along the way, including new resident puppy Frank and his sweet mom and dad who know the former Miss Sandowich-now-Coffey (coffee n a sammich, anyone? Can't make this stuff up) […]
Havertownies Unite! Let's meet at the gazebo in Veteran's Memorial Park in Broomall tonight at 7:30. This park ROCKS for Pokémon!!! It's a best-kept secret for trainers! The park has a little loop walk with over a dozen Pokéstops and a gym. Come fill up your bags and trade tips and show us the rare Pokémon […]
H-Town resident Esther Cohen-Eskin woke up early in the morning of August 19, 2016, to see a swastika spray-painted on her garbage can. Esther and her family are Jewish. She took to Facebook to share her dismay: "I walked outside this morning to take out the trash, and on my can someone spray painted a […]
Perhaps the Royal Caribbean ship "Anthem of the Seas" should be called "Anathema the Seas"**. The ship is turning around for the 2nd time in almost as many weeks. Do you remember the Super Bowl Sunday storm that tossed the 6,000 capacity cruise ship up, down, and all around off the coast of North Carolina? […]
There's a ridiculous letter from Phil Heron making the rounds. Mr. Heron is the Editor of the Daily Times. He is echoing the woes of locals who protest development over open space. He talks about the wide open views in Kansas. What the hell? In Kansas all that open space is PRIVATELY OWNED and used to […]
See all posts in all categories